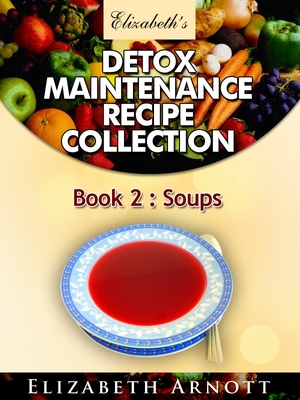 Soup can be a rich and nourishing meal in itself, e.g. Mexican Seafood Soup, or it can also be an elegant start to dinner, e.g. Chilled Beetroot Soup. Eating soup fills you up, and helps you eat less for your main course. Soup could also replace a mid-morning snack to stave off those pangs before lunchtime.
Buy for Kindle, iPad, iPod touch, iPhone, Android, Blackberry, Windows and Mac from:
Fabulous, flavorful and easy recipes

"This is a must if you are a fan of soups. If you want to create and eat fabulous, flavorful, detoxifying and easy to make soups, this is 'THE BOOK' for you. Bravo Elizabeth you have done it once again, a master in the kitchen and a master of creating wonderful recipes that are extraordinarily good for you. Indulge yourself and give your dinner guests a real treat by preparing these outstandingly delicious and nutritious recipes."

Ruth Spradgett, October 2012

Excellent Cookbook!
I'm so glad I stumbled across this cookbook. I'm a huge fan of soups, and the recipes presented here are accessible, diverse and delicious! I love that the recipes are influenced by several different regions of the world, from Mexico to England to Thailand. As a guy who is not that comfortable in the kitchen, I found the various soups to be easy to prepare and incredibly impressive when finished. The author really explores some interesting flavor combinations that I would have never imagined, and they taste great! My favorites are the Lentil, Tomato and Basil soup, the Chilled Avocado soup, and the Watermelon and Tomato soup. I felt like a top chef after preparing those. Well done!"

James M, 2012