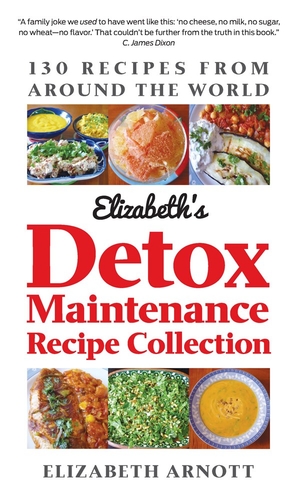 Yes! Food can be healthy, delicious AND satisfying, using fish, nuts, vegetables, fruit, legumes (pulses) and seeds. In this book I share my Detox Maintenance Lifestyle recipes for every occasion from breakfast to dinner including Chilled Watermelon and Tomato Soup and Moroccan Fish Tajine.
If you live in Mérida, Yucatán, or any other state in Mexico, you can buy the complete recipe collection in paperback directly from the author. Please contact Elizabeth Arnott at detoxmaintenancelifestyle@gmail.com
The recipes available in paperback edition or as an eBook for all major e-readers and tablets. Choose the version you'd like from the menu on the right.
"This cookbook rocks. It's filled with interesting and tasty recipes which will guarantee that I won't get bored and fall back on old habits."
M. Wetmore, June 2012


"Elizabeth's marvellous book of tasty recipes is just what the doctor ordered! I'm getting all of my friends to buy it. I've been cooking these mouth-watering recipes for two months now, and I feel and look better than I have in decades!"
Christo, August 2012


"So much variety yet absolutely delicious, I honestly don't know what more to ask for. For someone who had gotten results after a detox program, this recipe book is perfect to maintain your results, 2 thumbs up!"
Jessie Heart, June 2012