Add a little chia to your smoothie, or sprinkle hemp on your salad, and upgrade your diet with tasty, nutritious seeds.
Here are 9 seeds that are easily available from your supermarket, whole-food shop or organic market.
Chia Seeds
Chia is a super-food, prized for their ability to provide sustainable energy. In fact, "chia" is an ancient Mayan word for "strength". These seeds pack a powerful nutritional punch. They provide fibre, protein, Omega-3 fatty acids, calcium, manganese, magnesium and phosphorus, plus they are low calorie - only 137 calories in one ounce of seeds, and 1 gram of digestible carbohydrate. This makes them one of the best sources of nutrients that are naturally free of gluten, and are rich in anti-oxidants. Add chia seeds to any recipe, and dramatically boost its nutritional value. Check out my recipe for Chia Breakfast Bars for another delicious way to add chia to your daily nutrition.
Wild Rice
Wild rice is actually not rice, but a grass seed. It has higher protein than other whole grains, and 30 times more antioxidants than white rice. It also contains folate, magnesium, phosphorus, zinc, vitamin B6 and niacin. Follow the instructions on how to cook it, and you have a tender, fluffy rice to serve with any dish, or add to mixed salads.
Pumpkin Seeds
Magnesium is an important mineral that helps boost a healthy heart function, and pumpkin seeds are rich in magnesium. They help your body make energy, and bring power to your muscles. Sprinkle them on top of your soup or salad, and include them in your muesli mixture (see my recipe for Home-Made Muesli in Detox Maintenance Recipe Collection)
Pomegranate Seeds
These brilliant, shining, jewel-seeds that you strip out from the inside of the fruit, are juicy and delicious. They are high in Vitamin C, and rich in antioxidants. One cup of pomegranate seeds has fewer than 150 calories, making them a healthy choice. Toss them in a salad, sprinkle them on your mixed fruit, and add a juicy punch, a flavourful zip and brilliant colour to your plate.
Quinoa
These small seeds cook like rice, and can be a healthy gluten-free substitute for pasta. And they can be used as gluten-free "breading" for dishes such as breaded fish fillet. You can use them instead of oatmeal in breakfast porridge, and start your day with more protein, iron and fibre.
Flax Seeds
We have been eating flax seeds for health for thousands of years. Adding flax seeds to your diet can help increase your intake of omega-3 fatty acids, the healthy fats that are good for heart health. They can be eaten whole, or ground up into flax meal, and will help lower blood pressure. Flax seeds have a great, nutty flavour, and can be added to your oatmeal, or dry toasted and sprinkled onto your salad.
Hemp Seeds
Hemp seeds have a delicious, nutty flavour, and blend well with savoury dishes. They are rich in protein, and a great source of omega-3 fatty acids. You can use them whole, sprinkled on salads or whole-grain dishes.
Sunflower Seeds
The tender kernels of sunflower seeds are rich in Vitamin E, and are also high in healthy fats. Add then to veggie burgers for extra flavour and nutrients. They are great to include in your toasted seed mixture, and sprinkled onto fresh green salad leaves.
Sesame Seeds
Sesame seeds are among the most versatile of ingredients, and have been used for thousands of years. They are not only praised for their nutritional content in seed form, but also highly valued as oil, and ground up as tahini. They are especially high in copper, manganese, calcium and magnesium, and also contain zinc, thiamin and vitamin B6. Recent studies show that sesame seeds are a superior treatment, without side effects, for knee arthritis than conventional non-steroidal anti-inflammatory drugs. 4 tablespoons of ground sesame seeds per day is the tested dose for treating knee arthritis.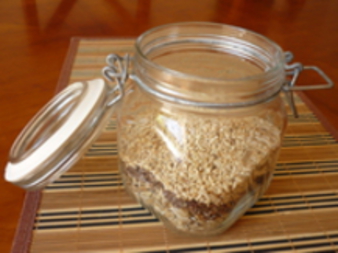 Try dry toasting a mixture of flax seeds, sunflower seeds and sesame seeds. I usually toast a large quantity, and store them in a kilner jar, so they are already prepared and available to add a crunchy and delicious topping to salads.