In England we say Beetroot, and in the US it is called Beet. But it is the same delicious, superfood, that can lower blood pressure, slow the progression of dementia, lower glucose levels and prevents the oxidative changes in patients with diabetes. The high fibre content promotes a healthy digestive tract, and the choline helps reduce chronic inflammation (which is the fundamental cause of most illnesses). It is a rich source of folate and manganese, and contains thiamine, riboflavin, vitamin B-6, pantothenic acid, choline, betaine, magnesium, phosphorus, potassium, zinc, copper and selenium. A powerhouse of ingredients that promotes good health.
I recently discovered that you can eat raw beetroot, and as it has incredible health properties, I decided to try it out with carrot, spiced up with a little fresh ginger, served on a bed of raw spinach. The result is a stunning combination of colours, and flavours, and it is so filling that you feel completely satisfied for hours. (Don't worry if your urine goes pink - that is just the colour from the beetroot!)
As always, it is preferable to choose organic ingredients.
Serves 2
Time: 5 minutes if you have a food processor, and maybe 15 - 20 minutes if you grate by hand.
Ingredients:
8 oz small beetroots, peeled
8 oz carrots, peeled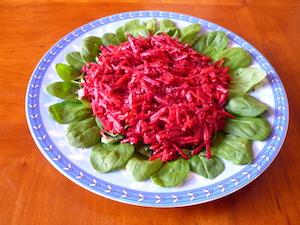 1/2 small onion, finely chopped
1 tbspn peeled grated ginger
baby spinach
Vinaigrette:
2 tbspns olive oil
1 tbspn lime juice
salt and pepper
Garnish:
sprigs of cilantro
Method:
1. Grate the beetroot and carrot, add the chopped onion
2. Whisk the vinaigrette ingredients, and mix in the grated ginger. Pour over the beetroot and carrots, and mix together
3. Serve over a bed of baby spinach, and garnish with cilantro sprigs