Merida writers' expo - 19th January 2013 - What a memorable day!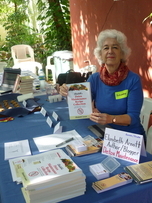 What a memorable day, with eighteen Meridanos showing off their stuff. There were writers of all genres - authors, poets and bloggers. We also had people with skills to enable the writers to publish - including a publisher and a proof-reader - and a journalist and an on-line magazine. What a host of talent there is in our beautiful colonial city.
As a cook-book writer and detox maintenance lifestyle specialist, I displayed my Detox Maintenance Recipe Collection in paperback and also the ebook version. I prepared samples from the recipes for tasting - Breakfast Cookie Bars, Chilled Beetroot Soup, Pistachio Sauce (from the Eggplant and Chickpea recipe) and Roasted Carrot Pâté. When word got out that there was food about, people flocked to my table. Everyone tasted and commented on how delicious everything was - did you really cook this? - this can't be detox, it's so delicious! - and many happy customers left with my book tucked under their arms.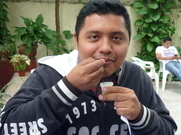 I was extremely fortunate to have a table right next to Joanna van der Gracht de Rosada, who was displaying her book "Magic Made In Merida" and her blog "Writing From Merida". She is also a successful and highly motivated member of the Merida Detox Support Group, and seemed to spend more time promoting my book than hers!
We were blessed with beautiful weather, and displayed our wares on tables in the garden of the Merida English Language Library, a valuable resource for both the ex-pat community and also Mexicans who are interested in the English language and culture.