Mangos are in season! Oh what joy and delight! We are now entering the delirious fruit season of the Yucatan in Mexico, and in my opinion the king of all the fruits is the mango. Here we have so many varieties, but my favourites have to be the ones I grow in my own garden - Ataulfo and Haden (I planted the Haden because it sounds like Haydn, and being a violinist, what could be better than a mango with the name of one of my favourite composers!)
Both of these mangos are sweet and juicy, have very little fibre, and taste absolutely delicious. Here is my recipe for Mango Delight using fresh mango, goat's yogurt and my secret ingredient that gives a little zest to the taste - nutmeg. (Nutmeg has multiple health benefits including brain stimulation, stress relief, and possible value with keeping Alzheimer's disease at bay.) Try it today. It is SO easy, and is almost sinful in its ambrosial delicacy.
Mango Delight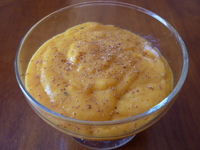 Time: 5 minutes
Serves 2
Ingredients:
1 large ripe mango
2 tbspns goat's yogurt
½ tspn freshly ground nutmeg
Method:
1. Cut open the mango by holding it with the pointed end downwards, and slice closely beside the seed, giving you two cheeks
2. Cross hatch the mango flesh and then turn the skin inside out, giving you a hedgehog-like shape, and slice off the cubes. Cut off the remaining flesh from around the seed
3. Add mango cubes and yogurt to the liquidizer and blend until smooth
4 . Serve in small sundae dishes, sprinkled with nutmeg
5 . Enjoy!