If you love sweet potatoes, you will go crazy with this easy and quick recipe. Sweet potatoes are a powerhouse of nutrition, whose health benefits far outweigh those found in ordinary potatoes. They contain almost twice as much fibre, and provide a "slow burning" source of energy.
Containing large amounts of vitamin B6, they help maintain the walls of your arteries and blood vessels flexible, allowing your blood to flow freely. They are also a rich source of potassium, which plays an important role in lowering blood pressure, and an excellent source of manganese which helps metabolise carbohydrates, and can stabilise the appetite for several hours.
Not only that, they are rich in vitamins C and E which play an important role in the health and beauty of your hair and skin.
All these benefits make the sweet potato an essential but inexpensive ingredient in your detox maintenance lifestyle diet.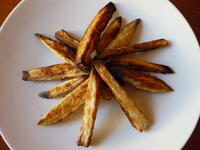 Try this easy recipe - I know you will love it. Adding spiced sesame oil gives it an extra zip of flavour; and soaking the slices of sweet potato before roasting takes out some of the starch, making them more crunchy. They can be eaten on their own as a snack, or as a side vegetable with salad or a main course vegetarian dish. I cook them in my
countertop toaster oven
, which saves time and energy.

Roasted Sweet Potato Chips
Serves 2
Ingredients:
1 sweet potato (peeled and sliced into chips)
1 tspn sea salt
1 tbspn melted coconut oil

½ tbspn spiced sesame oil
Method:
1. Soak the peeled and sliced chips of sweet potato in water for half an hour
2. Heat the oven to 400℉, 200℃, Gas mark 6
3. Pat dry the sweet potato chips, and toss in bowl with the oils and sea salt
4. Roast for about 30 minutes, turning the chips after 15 minutes
5. Enjoy!